A Breath of Fresh Air
Indoor plants help breathe life into your space. Many types also purify indoor air. Tropicals grace our greenhouse year-round.  So, whether you need an indoor plant or want to blend them into your shady outdoor summer displays…so be it.   We believe that begonias and ferns CAN live side by side in peace and harmony!
Success with indoor plants is easiest when you match your indoor environment to a plant's growing needs.  First, determine where in your home you'd like your future houseplants to live.   This will influence the size and type of plant to choose (smaller tabletop, floor plant, or one that can trail) Most plants will need natural light from a window somewhere in the room.
What Type of Light Do You Have?
Next, determine what type of light you have in that area: low (L), medium (M), bright indirect (BI), or bright direct (BD).  Here is a light guide to help you determine what level you have.   It is common for plants to be able to adapt to more than one light level.   Most plants will do well in bright indirect light.   But, if you have extremes—very low light, or bright direct light—make sure you select plants that can handle these conditions.
Although our stock varies by season and availability, below is a sample of the plants we quite often carry.   Let us know if you are looking for something specific, and we'll try to bring it in for you.
Want to plant a fairy garden or terrarium?   We carry miniature starter plants that are good candidates for this use.  These are types that will naturally stay small, are slow growers or respond well to trimming.
Repotting Services
If you want to refresh your existing houseplants...bring them in to us.  Our reasonable re-potting service will have your plants looking new again.
Pet friendly Plants:  Does your pet chew on the leaves of your plants?  If so, you might consider choosing one that is KNOWN to be non-toxic to dogs and cats.  This information can be found on the ASPCA website at: www.aspca.org.  Their website offers an extensive searchable database for toxic & non-toxic plants of all types (be sure to use botanical names in their database)  Click here for a list of pet friendly plants that we often have in stock.
Non-flowering Houseplants
Flowering and Seasonal Plants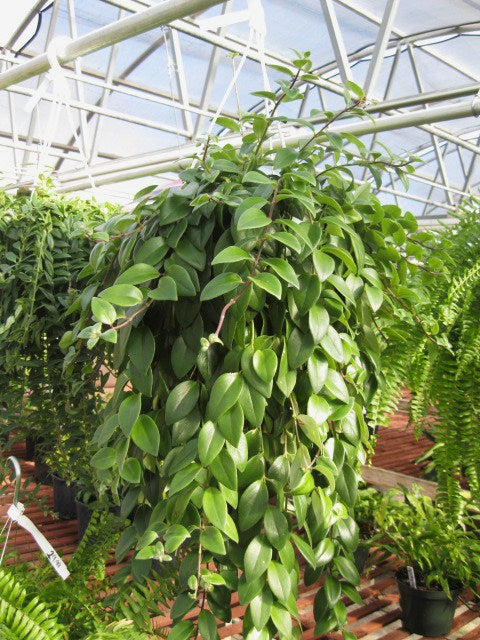 Lipstick Plant varieties (Aeschynanthus varieties)
Light Preference:
Will tolerate Medium but vines stay fuller and blooms best in Bright Indirect
Water Needs:
Root ball can go lightly dry between waterings. Avoid waterlogging.
Notes: There are many varieties of this attractive trailing plant. Flowers are typically red (sometimes orange) and emerge from a dark sheath as if the flower is  being twisted from a lipstick tube.  Potential to bloom all year even in Winter. Humidity in summer (misting is beneficial but not necessary) and a rest period in Winter seem to be key for extra blooms. Trailing, glossy succulent leaves are pretty even when the plant is not in bloom.  Easy care, great for beginners!
Cacti & Succulents for Indoor Growing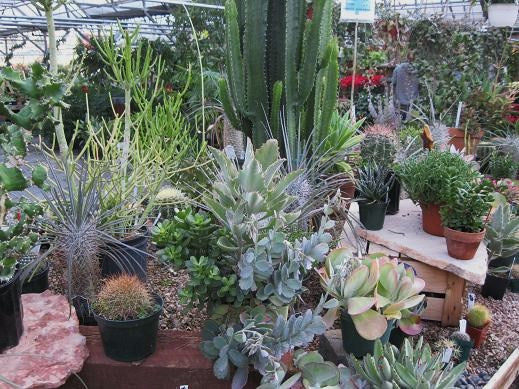 Cacti & Succulents
Succulents are very trendy right now.  They offer easy care and a load of color and texture.  They are striking both as single varieties and when blended into a garden with mixed varieties.
Cactus lovers...we've got you covered.  Phelan's has a good assortment of starter cacti in 3"-6" pots as well as a few larger specimens.
Our pre-potted combo gardens are also popular with customers.  If you'd like to design your own, we have a wonderful cactus soil for purchase.
Our in-stock cacti and succulents will vary throughout the year.  We've included a sample of a few varieties below.  Types that we offer on a regular basis include:
String of Pearls *  Donkey's Tail  *  Jade varieties  *  Echeveria varieties  *  Kalanchoe foliage & floral types  *  Crown of Thorns * Pencil Cactus *  Euphorbia varieties  * Hawarthia varieties  * Prickly Pear varieties  *Aloe Vera  &  Decorative Aloe varieties